In this charming region, so rich in history and tradition, the west wing of an old house overlooking a large garden has recently been restored and transformed into four lovely apartments, specially intended for those travellers who tend to avoid the mass tourism circuits.
Each apartment, furnished and decorated according to tradition, keeps its country style charm while offering all the modern comforts upon which we are so dependent.
Situated in the heart of the historic centre, these apartments - with their wooden beamed ceilings, terracotta floors, marble fireplaces and a stunning view over the beautiful tuscan countryside - will make your holiday unforgettable.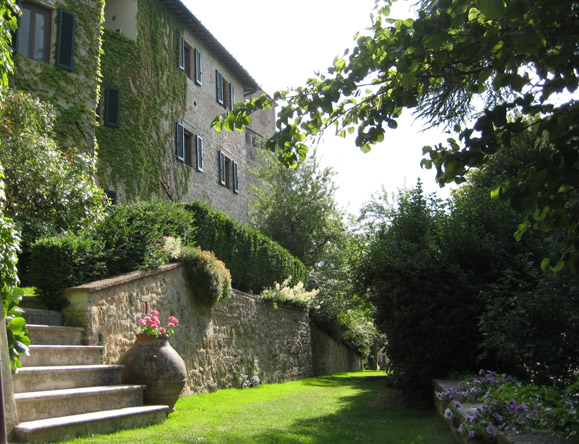 Appartamenti al Poggiolo official site - Appartamenti al Poggiolo official website
The town
Montepulciano sits on a hill that divides the Val d'Orcia from the Val di Chiana, with a fantastic view and ever changing colours from dawn to sunset.
The architecture is medieval and renaissance. Michelozzo, Sangallo, Peruzzi and Vignola are the great artists whose names are linked to Montepulciano, and their buildings are all situated within the city walls: in Piazza Grande, where the cathedral is framed by the town hall and two imposing palaces; in the main street winding through the city, which is bordered by 16th century, medieval and even etruscan façades; in the charming little squares, often dominated by renaissance churches; or in the narrow, romantic alleys crossing the main street.
In the immediate surroundings, the solemn and harmonious church of San Biagio (Sangallo) is set into a glorious natural scenery, while the 17th century church of Santa Maria delle Grazie holds a precious polychrome terracotta by Andrea della Robbia.
Very close to beautiful destinations between Tuscany and Umbria: Pienza, Val d'Orcia, Montalcino and its Brunello, Monticchiello, Monte Amiata, Siena, San Gimignano, Arezzo, Cortona, Trasimeno lake, Perugia, Todi, Gubbio, Assisi, Orvieto, Chiusi, Sarteano, Cetona, Chianciano.
The Poggiolo
Our place takes its name from the street which from Piazza dell'Erbe climbs up to San Francesco. Poggiolo means a plain along a hill's side, and in fact the name refers to the entire quarter. The view from the square of San Francesco is magnificent; while in an adjacent, attractive little square, the baroque church of Santa Lucia holds a precious painting by Signorelli.
Two apartments (Loggia and Sunset) are situated in the west wing of an 18th century building dominating the Piazzetta degli Archi, while the central and eastern part of the house is still used as the owners' residence.
They enjoy the view of a large garden surrounded by the valley with the towns of Montefollonico, Sinalunga and Cortona, and dominated by the skyline of the mountains over Arezzo.
Across from Piazzetta degli Archi, in vicolo dell'Unione, is a dependence with two charming apartments.
All the apartments have a fireplace, independent heating, washing machine (Loggia and Sunset have also a dryer), dishwasher, television, iron and vacuum cleaner. Free car park in the garden.
Free internet Wi-Fi.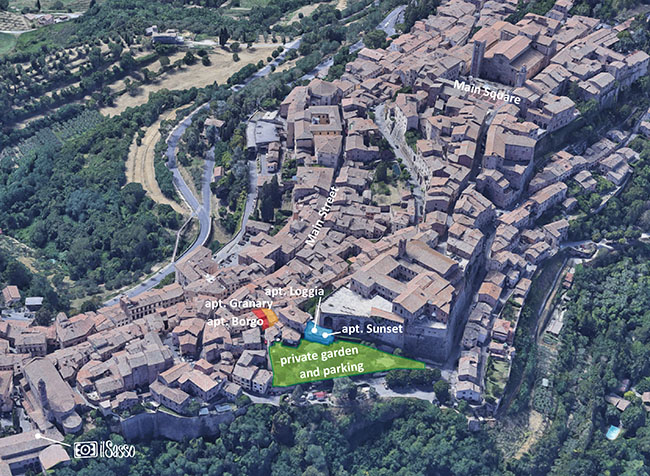 Via Piana, 17 - Via degli Archi, 1 - Piazzetta degli Archi, 1 - Vicolo dell'Unione, 2a - Vicolo dell'Unione, 4