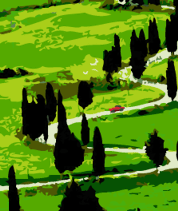 If you have a car, and you like touring around with only a map and a pocket guidebook, here are some suggestions for a thorough exploitation of your week in Montepulciano:
1st day: visit of Montepulciano.
2nd day: day trip to Siena, taking the Via Cassia on the way to, and the superstrada on the way back. No need to describe Siena, the world famous medieval city. But if you happen to be there during the Palio days (2nd July or 16th August), yours will certainly be an unforgettable experience.

3rd day: day tour throughout the Val d'Orcia. Monticchiello (a charming medieval village), Pienza (a pure example of renaissance townplanning, with a superb cathedral), Bagno Vignoni (a medieval village with roman thermal baths), and Montalcino (a medieval little town, well known for its exquisite wine). Then you have a choice: either Monte Oliveto (a monastery set into a beautiful landscape, decorated with fine fresco paintings all along the cloister walls); or Sant'Antimo (a severe romanesque abbey, beautiful in its loneliness), and the top of Monte Amiata with its great panoramic view all around.

4th day: day trip to Perugia, a splendid medieval city with architectural works of art - palaces, towers and churches; and then to Assisi, the town of San Francesco with a number of fine gothic churches and a deeply mystic atmosphere.

5th day: day trip to Cortona, an elegant little town of ancient origin, with fine buildings and paintings by Beato Angelico; and Arezzo, well known for its medieval and renaissance buildings with a high architectural value (churches, palaces, and the superb Piazza Grande).

6th day: day trip to Chiusi (a museum and some very interesting etruscan tombs), and to Castiglion del Lago (boat excursion to the romantic Isola Maggiore, harbouring a small village).
7th day: day trip to Orvieto, a surprising medieval town perched on a tufa rock hill. As well as its world famous cathedral, there are other very interesting monuments such as the double spyral well of San Patrizio. Later in the day, visit Bagnoregio (a small and charming medieval village put under the protection by Unesco for its extremely precarious stability).
Car rental: in Chiusi (25 km) www.aesserent.it